Hampshire is another of my favourite places in the UK. October 2020, saw me take the trip from Hertfordshire down to the Southern parts of the Hampshire county to visit two specific places.
First stop was the famous Sir Harold Hillier Arboretum and Gardens in Romsey. This was my last opportunity between the lockdowns to capture the autumn colours and I couldn't have picked a more perfect venue. The gardens comprise of a stunning 180 acres of plants, shrubs and trees. It is said there is approximately 42,000 species of trees in the gardens and approximately 12,000 shrubs. All appear to have been planted with careful thought and precision, so come autumn, what is presented is nothing short of art.
The gardens were started by Harold Hillier when he acquired Jermyn's House in 1953 and developed over the years through an absolute labour of love. In 1977 he gifted the gardens to Hampshire County Council and to this day it is managed as a charitable trust. Within the grounds are nurseries which also supply other gardens and arboretums worldwide. However, this stunning venue goes back further in history and what can only be described as a truly remarkable family who have left a legacy of discovery and a true passion for creating stunning backdrops and tranquil spaces.
Harold Hilliers passion for plants, is said to have come from his grandfather Edwin Hillier. When you read up about the legacy, you will note that Edwin came from a poor family of agricultural labourers and things improved for the family when his father took up a live in manservant position in the household of the Rector of Kimpton.
The Hillier business began in 1864 following Edwin gaining experience from working at a number of leading gardens and nurseries. He went on to purchase his first nursery and things really started to take off from there. The business went from strength to strength and Edwin was able to buy larger acres of land to develop his vision. He eventually passed the business over to his two sons Edwin and Arthur and subsequently the business passed to Harold who was Edwin eldest son.
Reminiscing on his childhood at the Shroner Wood Nursery Harold wrote, "I remember the days when my father, my uncle and the staff worked from 6.00 a.m. to 6.00 p.m., finishing at 4.00 p.m. on Saturdays, using hurricane lamps in the winter, early mornings and evenings. In the days of Shroner, this meant a walk of 6 miles before 6.00 a.m. Only if one was lucky was there a lift in a wagon. After a high tea, my father would work in the office at the back of 95 High Street, returning home in time for bed at 11.30 pm".

https://www.hillier.co.uk/about-us/our-story/
As I walk into the gardens, I stop to take in the immediate pallet of colour before me and I am already in awe. I have a map in hand, my Canon camera and iPhone at the ready and begin to stroll through, stopping to take snapshots of what my vision of beauty is.
The autumnal colours are unbelievably striking, and I can honestly say that autumn is also one of my most favourite times of year. It was a mild day and whilst rain was forecast, I managed to miss the showers and enjoy the blue skies which enhanced the planting colours and the sunshine gave the right lighting.
I continued through and found this lone bench in the dappled shade. For me, it was a reminder of a quiet place for contemplation. Somewhere one could sit and process their thoughts, surrounded by the beauty of nature. A place whereby, you could relax with a good book on a warm summer's day, away from the hustle and bustle of busy life.
I continue to walk through the gardens and despite having a map, I rarely follow them as I like to get immersed and lost making discoveries of my own. As I come down a winding pathway I am met with a stunning white eucalyptus tree. I stopped to admire the vastness of this great white beauty which stood out more because of the colourful planting around it and further enhanced with the blue sky above. I have not seen a eucalyptus like this, since I was in Australia 20 years ago.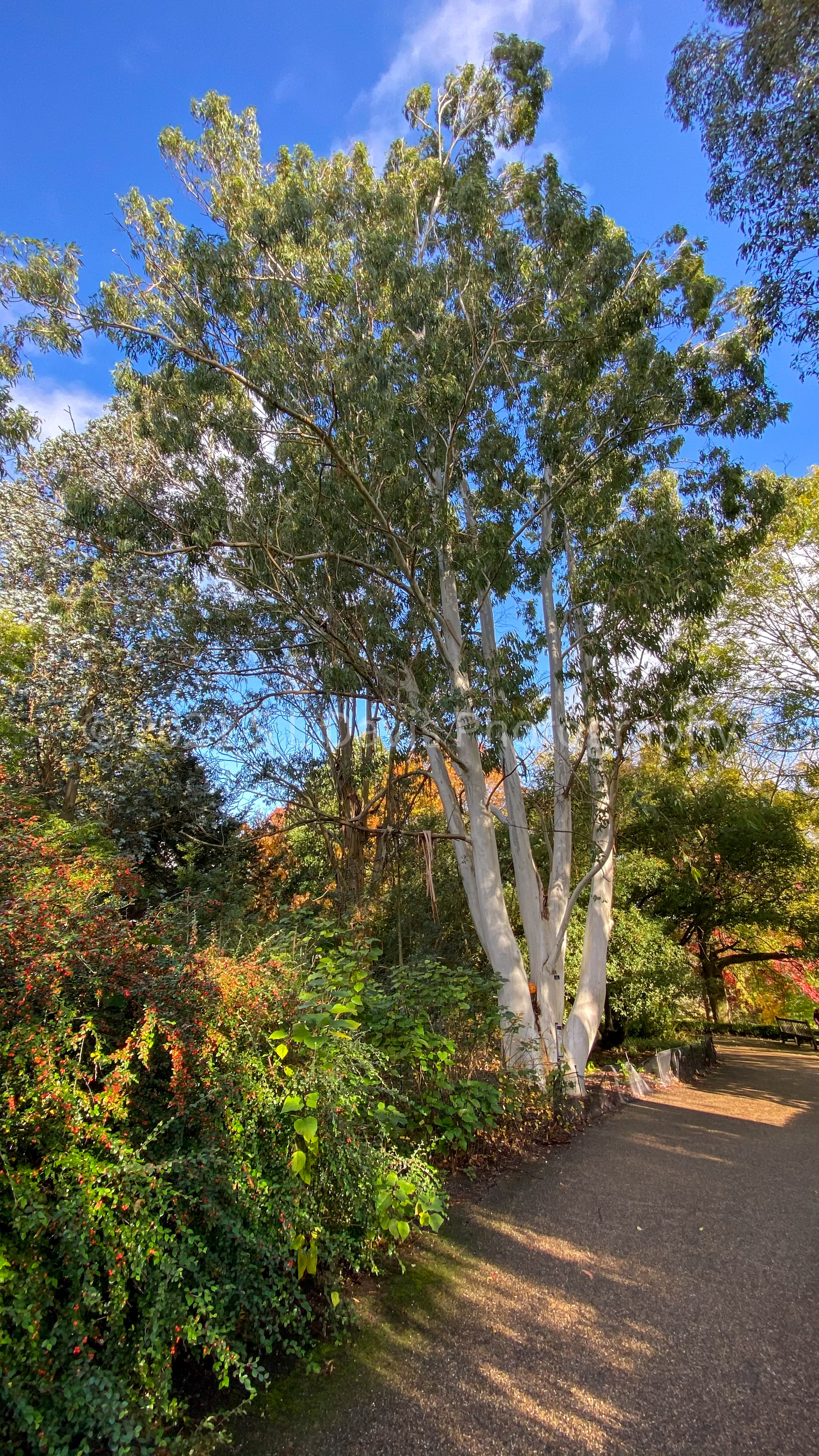 I continue on and decided to take a pew on a bench which overlooked the staggered and sloping landscape of colourful trees. It was tranquil at this spot and I sat there for a while listening to the gentle rustle of the leaves as a breeze passed through them. Birds were singing their autumn chorus and it is certainly a place for contemplation.
After a few peaceful moments, I decided to walk onwards following the winding pathway downwards into the depths of the gardens and I spotted the sun and rays pushing through a V in this oak tree. To me this is what I consider a money shot. It's one of those rare moments in nature whereby you get a small window of opportunity to capture natural art. It did take a good few shots to get this image and this involved setting the camera on a tripod, at the right angle with a remote control attached to minimise movement, to get a clear image of the rays. I love this as the colouring of the leaves is really enhanced by the light.
Walking on, I start to hear the sound of running water and I discover a stream running alongside the pathway. I was aware there is a water feature in the gardens and I was keen to find it. However, my attention is distracted by the array of colourful acers, berries and a lone dead tree.
In these gardens there are so many themes to discover and each are just as beautiful as the last. If you relax and really allow your senses to be awakened by nature, it will always be rewarding. Following the winding pathways I remained enraptured by one man's remarkable vision.
Walking up a sloped path I come to a gravel pathway and follow it round, through various species of fir trees and I come out to this clearing of lawn which is lines by red barked ornamental cherry trees and a lone bench. The redness of the bark which has been cleaned to enhance its beauty, which really stands out under the yellowing foliage and is further enhanced by the ornamental grasses edging the base of the trees with the lush green lawn.
Being lost in truly beautiful surroundings is a wonderful experience.
To find a labour of love and a masterpiece of natural beauty is a real accomplishment.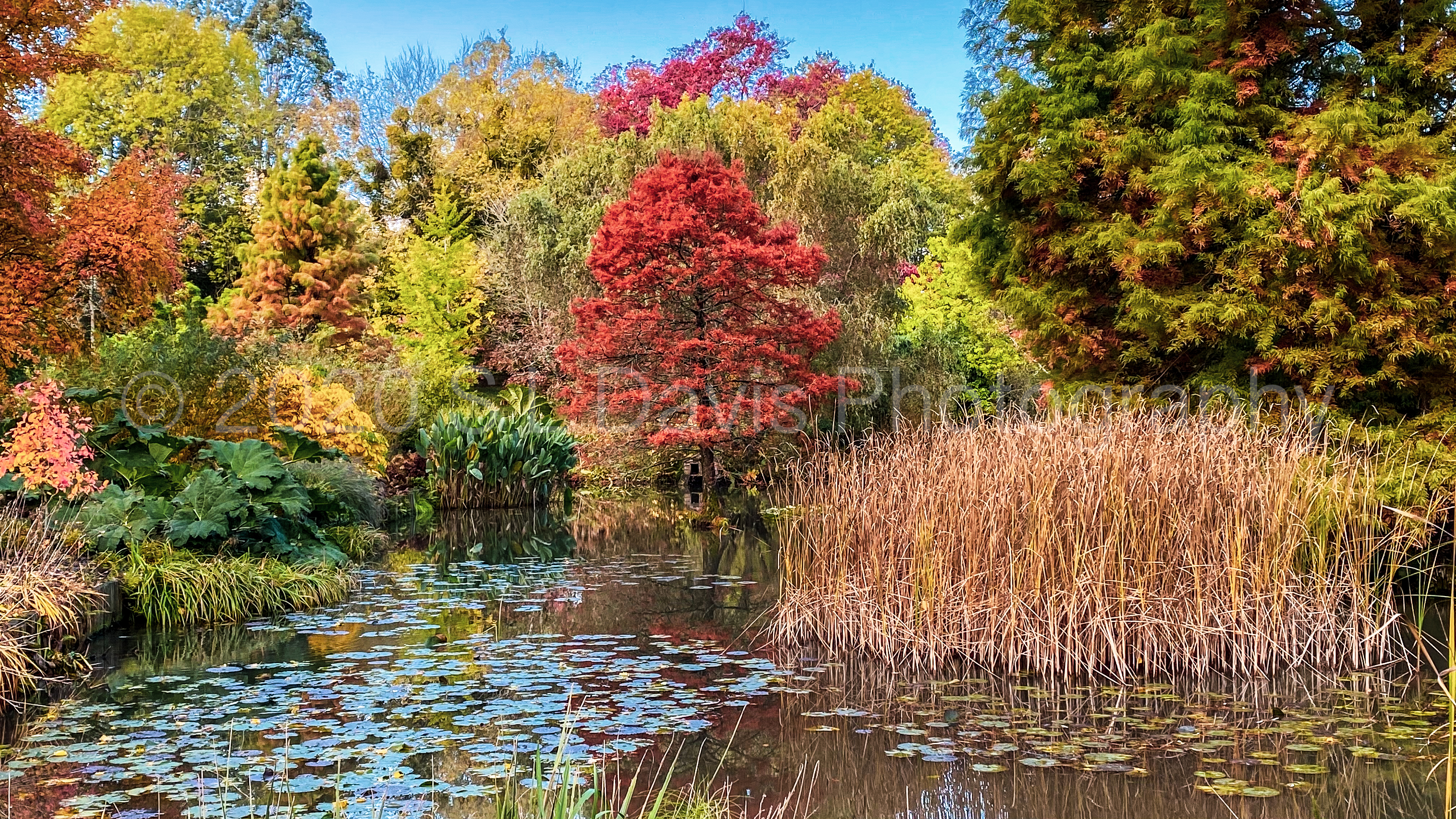 After spending a while sitting by this stunning masterpiece and many photographs later, it was time for lunch and time to head to the next destination…. Laverstoke.
About 30 minutes drive up the road from Romsey you will find Laverstoke which is also the home to the Bombay Sapphire Distillery. I was on the gin tour.
Welcome to Bombay Sapphire. Situated in Laverstoke with the River Test running through it. This is another place of remarkable history.
Now with it being a pandemic, there were limits on this tour and that was only one gin cocktail at the end. So here I will take you through a mini tour and experience.
Bombay Sapphire is said to have over 1000 years of history, but it wasn't always situated here. Laverstoke Mill itself is where the 1000 year history is applicable. It can be found in the Doomsday book as far back as 1086. The Mill was once under the ownership of William the Conqueror and Henry VIII. The mill then became a printers and manufacturer 1724 of bank notes for the British Empire. This increased during Queen Victoria's reign. Bombay Sapphire itself began in Warrington in 1761.
The mill was acquired by Bombay Sapphire in 2010 having been vacant since 2005. The buildings were not in a good state and work was done to restore them and modernise some areas. One key modernisation is the Glass house which was designed by Thomas Heatherwick. He installed the stunning glass architecture in 2014 when Bombay Sapphire opened its doors following extensive renovations of the site.
Bombay sapphire's remarkable history is documented on site to take you through the ages and they are also responsible for the conservation of part of the river test, with it being one of the few remaining chalk streams in the UK and having a protected status. The river plays a part in the production of gin at the distillery with it powering the water mills and keeping with it's ethos for sustainability and low impact on the environment.
Inside the glass houses you will find one with a temperate climate and one with a Mediterranean climate, emerge from the renovated mill building and house the 10 botanicals used in the gin distillation process. The flavouring of the gin comes from a recipe of ten ingredients which are mostly grown on site inside the glass houses: almond, lemon peel, liquorice, juniper berries, orris root, angelica, coriander, cassia, cubeb, and grains of paradise. One interesting fact they tell you on the tour relates to cassia. For years I never checked the label of Schwartz herbs and spices and was unaware that what I thought was cinnamon is in fact the cheaper substitute of ground cassia bark. Cassia is a form of cinnamon but there is a subtle difference in taste which on this tour you get to learn about.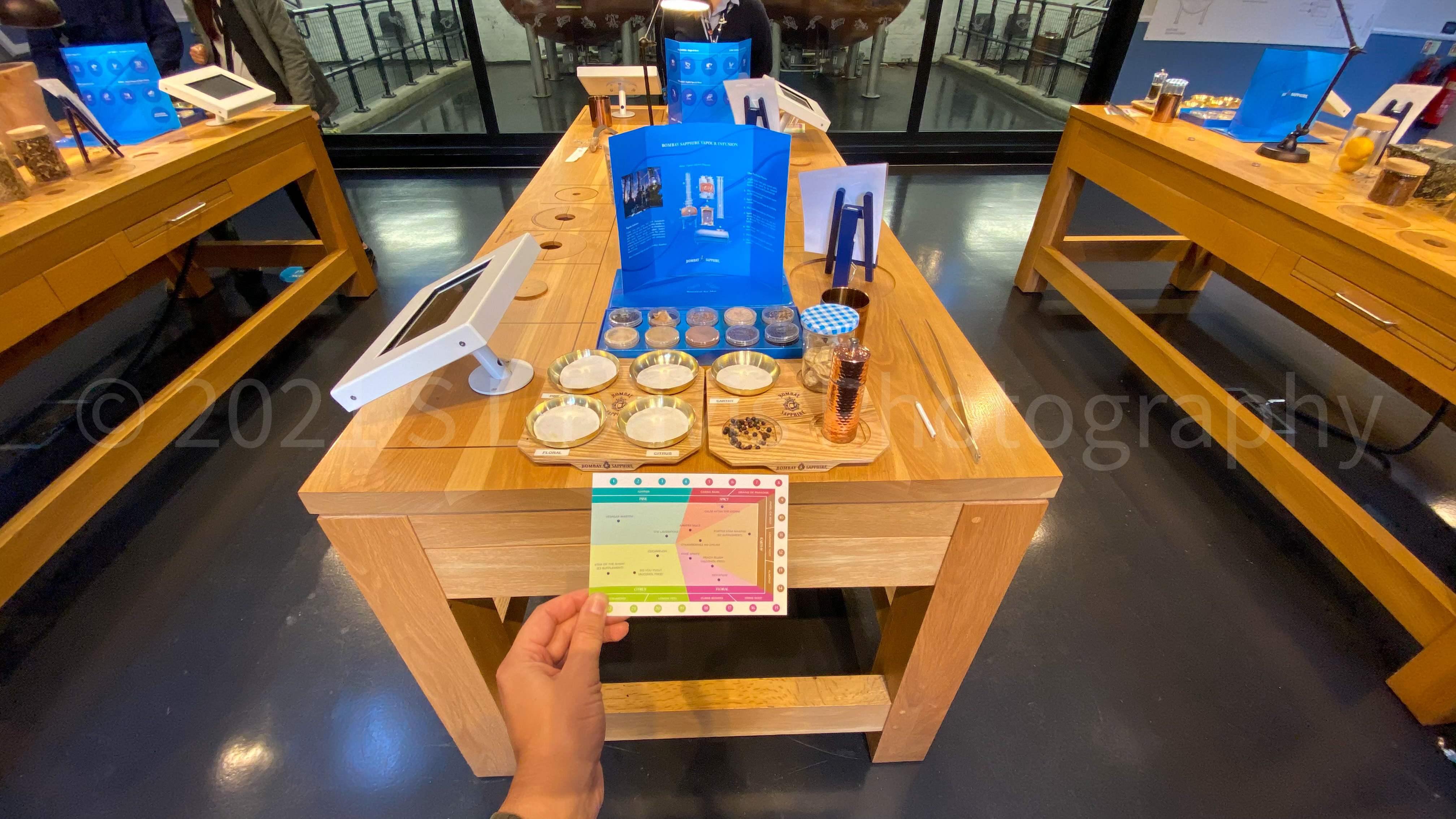 Now not wanting to give too much away here as you really should go on this tour, you will note a card in my hand and the tour will help you through two of your senses to determine which drink is more to your taste. When the tour ends, you will get to enjoy your choice.
Needless to say my day had come to an end and I was able to take home a my reward of their latest gin creation, one look back and I was able to capture the sunset glow behind the historic mill, before making my way back home.