The "West Country" is one of my favourite places in the UK, it is the epitome of old England.
My most favourite place is the iconic Cheddar Gorge. My late father used to take us there regularly as kids and it is here I learned more about geology, history and the famous ciders and cheeses.
Generally when I have visited Cheddar in the past as an adult, I would throw in a weekend to tour the nearby village of Priddy, the towns of Wells, Weston-super-Mare and also Wookey Hole (also famous for its caves and cheeses) or the wonderful city of Bath. This specific area of the West of England is filled with amazing history and sights, so let me begin on why Cheddar is so much more than cheese and traditional cider.
I visited the gorge recently in September on one of the final hottest days of 2020. It was clear blue skies, 23 degrees and no clouds. Due to the pandemic, the caves were closed as they are filled with water droplets and vapours making the risk of spreading the SARS CoV-2 virus too great, but this did not hinder tourism in this spectacular destination. The small town was buzzing with activity and the local restaurants and cafes were busy and conscious to ensure all safety measures with an adequate track and trace system was in place.
As I walked up the winding street through the gorge my attention was caught by a rock climber above, swinging around the World Famous Lion Rock. You may wonder why this formation is called Lion Rock. Well, there is suggestion that an artist from London, named Joseph Mallord William Turner may be responsible for this and the name is based on the south face resemblance to that animal's features, which he sketched in 1811. You may be able to see this from my photography below.
A few photos later, I stopped in at the Lion Rock Tea Rooms for a spot of lunch and began planning my route up into the Mendip Hills, mostly from memory and a plan that didn't quite go to plan as always but was most certainly fun. The cafe was buzzing with day trippers and tourists whilst we all watched the climber swinging confidently around Lion Rock and a couple of us snapped away.
Whilst there, I had close encounters with a European Hornet who was keen to share my ale. This allowed me to take some in flight and close up shots of this impressive stinger feared by many. I will admit, even I was a little nervous at first but by allowing it to explore in peace, meant I was not a threat and eventually after a sip of Cheddar Ale, it was buzzing off on its merry way.
Cheddar Gorge is exactly as the name describes. It is a huge gorge in the Mendip Hills, Somerset.
Made up mostly of thick Carboniferous Limestone, which is geologically exposed, it is also underlain by Black Rock slate, Burrington Oolite which contain ooliths and fossil debris, on top of Old Red Sandstone and by dolomitic conglomerate of the Keuper. As you walk through the gorge, erosion gives away some of the geological secrets as you will notice from my photography, showing the variation in colours found on the steep, crumbling rocky landscape.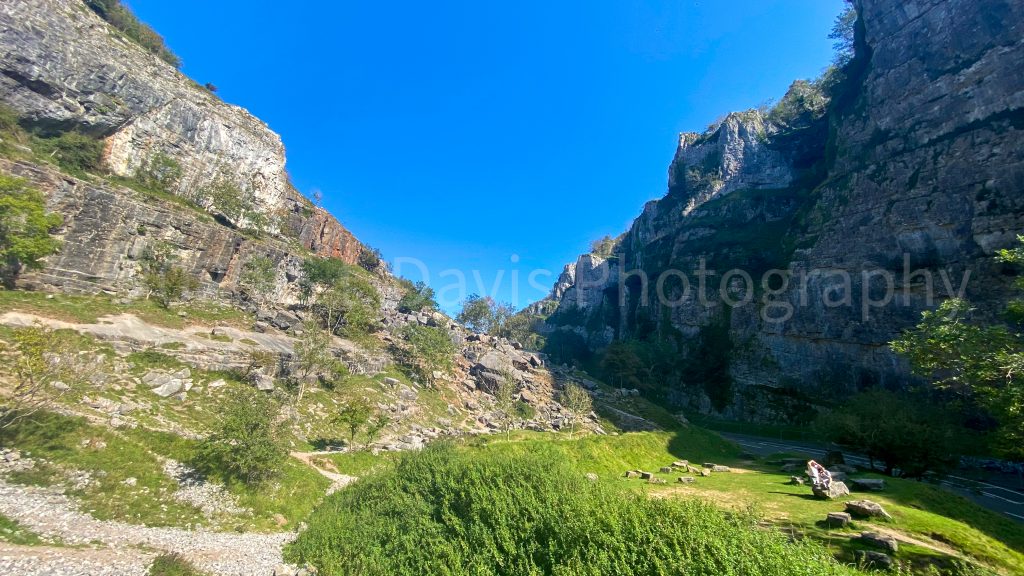 Beneath the gorge are two caves whereby an impressive array of stalactites and stalagmites grow. These are created by the dripping of water and accumulation of material deposited on the floor from ceiling drippings. Stalagmites are typically composed of calcium carbonate, but may consist of lava, mud, peat, pitch, sand, sinter and amberat. Stalactites, hang from the ceilings of caves, hot springs, or manmade structures such as bridges and mines. In simpler terms Stalactites hang and Stalagmites grow from the ground.
Of the two caves in Cheddar these are named, the extensive Gough's Cave which is the most impressive and then there is the smaller Cox's Cave. Both are named after their discoverers, Richard Cox Gough who discovered Gough's cave and George Cox who discovered Cox's cave.
Gough's cave is the more famous of the two and this followed Richard Cox Gough a retired sea captain, who lived in Lion House in Cheddar, discovering and excavating Gough's cave. He went on to open up the caves to the public. This excavation which continued after his death in 1902 led to the discovery of a skeleton that is aptly named Cheddar man in 1903, it was believed to be around 9,000 years old. This skeleton is the oldest skeleton in Britain and it appears to date back to the Mesolithic period – approximately 7,150 BC, a hole in the skeleton's skull suggests that he died a violent death.
The research into this skeleton took an interesting turn in 1997, when scientists were able to sequence DNA extracted from one of the Cheddar Man's molars, and astonishingly were able to find two people living in the village that shared the same DNA as him, making the Cheddar Man a very distant ancestor! The mysterious Cheddar Man over the years has been the subject of much speculation with scientists at one point suggesting he was a she and then followed speculation on skin colour. To this day the only thing that is certain is, the approximate age being in the region now of 10,000 years old and that the skeletal remains are that of a man who was around 5'5″ in stature. Even with the advancements of DNA testing which was also conducted by the Natural History Museum Experts and that of University College London, no one can be certain of the mysterious Cheddar Man's skin colour.
Cheddar Gorge is the oldest gorge in the UK and a maximum depth of 137 m (449 ft), the top of the ascent is located at 211 meters above sea level. It covers a 3 miles radius, and it is believed to have formed over the last 1.2 million years by floods caused by the end of ice ages.
There is also Jacobs Ladder which leads to Pavey's lookout tower. With a total of 274 steps, this is not just a hell of a cardio workout, it is also a killer on your knees and many end up taking a break at several points on the way up. As the caves were closed, so was access to the ladder, which I have climbed many times over the years. I was on this occasion taking a very alternative route up.
I ambled my way up towards the imposing gorge rock faces and peered over the ancient stone walls into the river and steepled ponds, whereby the waters are crystal clear and teeming with Brown trout, weaving their way between the green string weeds against the flowing current.
The road that passes through Cheddar is winding and you will see a couple of small historic cheese shops which are selling local produce from the only local Cheddar cheese maker left in the village and real scrumpy cider, which can be found at the start of the village, The Cheddar Gorge Cheese Company. The cheese is still to this day matured in the caves which provide the ideal humidity and steady temperature for maturing the cheese. The environment in which the cheese is matured has a remarkably significant influence on the maturing cheese flavour, texture and moisture. In fact, Gough's Cave in the Gorge, is the original historical Cheddar Cheese larder. This maturing process is what makes the authenticity of the cheese unique and sets it apart from other Cheddar cheeses produced worldwide. In other words, there is only one Real Cheddar Cheese and it can only be found in this unique village.
One of the things you can do is tour the factory and see how they make real cheddar cheese. At the end of this tour you get to sample the many varieties of cheddar they make and the flavours are truly remarkable. If you are a fan of cheese, you may end up very much undecided on which to purchase and possibly out of pocket due to the wide selection and incredibly good tasting cheeses.
You will note the impressive formations of rock are also popular with rock climbers and this is a common theme you will see as you walk further up the winding road on either the road itself or the narrow verge footpaths. There is a stunning amount of greenery and there is a wide variety of rare butterflies of the very fast variety, The Fritillary being one species. I stopped to take photos of the impressive rock formations and more of those climbing the rock face.
Me being me was sure I could remember where the pathway up was but, I was wrong. This minor error of judgement however, did not hold me back. I ultimately ended up doing some rock climbing without safety equipment. Something I haven't done for years and I can honestly say that it's reassuring to know, at almost 40 I am still pretty limber, though a fear of heights, makes things a little nervy. To had to this, there is another thing you have to watch out for other than your footing. It is where you place your hands and especially in various cracks and nooks, not just for grip but you might get a venomous bite if you are not careful. The gorge is home to the native Common European viper or commonly known as Adders. Needless to say the view is spectacular!
I began to take this path and half way up, realised this was the wrong pathway. It was too steep to get back down, which meant the only way out of this, was up. I was carrying a backpack with my two DSLR cameras, all my lenses, some bottles of water and a tripod. This meant I had to get creative.
I assessed my options up and began the climb. The sun was beating down and with not a cloud in the sky, it made the climb a little tougher as I was being cooked. The climb was around half a mile, as it wasn't as straight case of going up. Instead it was a case of climbing rock faces and walking along the narrow ridges which were a combination of solid sediment or incredibly loose rock chippings.
I did stop several times to take photos as the view I had really was breathtaking.
Whilst I continued to precariously climb the gorge and it's staggered rocky terrain, I took a small break and whilst sat there, I was able to just take in the sounds of the Jackdaws and Rooks. I could hear the sounds of the passing cars below and the faint chatter of people walking through the village. It was just magical and I was up here alone and no one knew. I say no one, that is a technical lie, my friends where sending me WhatsApp messages throughout this climb and my phone had been buzzing in my pocket. When I told them where I was and what I was doing, they did initially think I was joking. That was until, I sent some choice photos and videos of the view before me. The landscape this side of the gorge, is deceiving as you can see greenery and it looks flat, but I can assure you it really isn't.
As I sat and took in this view, I spotted a lone rock climber opposite and decidedly took several photos as he was level with the height I was at on the opposite rock face.
After a short break I continued on and then had to watch my footing to ensure I was placing it on stable rock as I made my way through some Bracken and brambles. The next phase of this climb became a little more treacherous, due to it being loose chipped rocks and a barbed wire fence. Realising this could put me into a little bit of a difficult predicament, I carefully climbed over the barbed wire fencing and made my way towards the top. Part way across this ridge I spotted mountain goats.
As always photos are necessary and being curious, I sat for a while to watch these goats who were also a little amorous. I hadn't seen the goats before on the gorge, even when I had visited as a kid, but a little research revealed these were introduced in the 1990's. These goats are feral and they are descendants of old breeds of goats that died out around a century ago.
As I reach the summit, a man spots me coming up through a narrow path and thick undergrowth, and asks if I need help getting up. I politely declined and explained I preferred a challenge. He found this amusing and continued on his way along the summit pathway. There, another two women passed me, who had also decided the challenging route up was a better option.
As I walked along the pathway, there is a scent of coconut from the Gorse. You also have a view across Somerset and of the Cheddar Reservoir.
There is a spot with a wooden gate between the stone wall whereby you can sit and take in the view. On a day like this, I highly recommend enjoying the beauty of this magical place that surrounds you.
As the hours had passed quickly, it was time to make my way down and pick up some local Cheddar cheese and scrumpy cider. The route down was just as challenging as the one going up. Whilst there are some steps put in by the National Trust, the best route is the natural steps that are the roots of the trees.
Part way down this eerie path I spot a cave and paid close attention to my stepping as with the steep slope down and the many tree roots and smoothed rocks from erosion, man and natural exposure, it is very easy to slip or trip and the landing is unlikely to be soft.
This path down, leads you back to the centre of the village and across the road is one of the famous cheese shops. As you can imagine, I made my stop at The Original Cheddar Cheese Shop and then headed back to my car to take the long journey home. On my way through the village with my first batch of purchased goods, I stopped to photograph "The Sword in the Stone' which is situated in the middle of Cheddar Yeo river. It's not actually the real Sword Excalibur. This is the stuff of legends from stories about King Arthur and Merlin which of course is mythical, however, it certainly makes for a great tale to be told. To give you an idea if you don't know any of the stories, one of the legendary stories goes along these lines…
In the days of medieval England, King Arthur and his Knights of the Round Table were respected and revered all across England. When Arthur was born, his father King Uther Pendragon was advised by the wise wizard Merlin to conceal his birth. Years later, after his father had passed away there was a conflict over who should be the next King. Merlin decided to embed the mythical sword Excalibur into stone and only the rightful King of England could pull it out. Many tried and failed, but as soon as Arthur tried, it came out easily, proclaiming him King of England. He later lead the defence of England against invading Anglo-Saxon soldiers in the late 5th and 6th centuries AD, and tales of his heroism spread all over the land.
I continued on and stopped in at Leg Bender Cider Shop to pick up a little more cider and sample some warmed scrumpy cider. This little gem is situated next door to The Cheddar Cheese Company village factory.
Once in my car loaded up with goodies, I took a long slow journey back from Cheddar, which takes you through some of the best views of the West of England's countryside, something I thoroughly enjoy every time I visit.