The timed release of this blog is dedicated to what would have been my late fathers birthday and he was also a hugely passionate lover of nature.
May 2021 has been rather wet and cold. The April showers arrived late and many have decidedly stayed home, despite lockdown gradually lifting. This is my first trip of the year due to lockdown and other work keeping me from getting out and about.
I keep a regular check on the news and the weather and had been following the news from March 2021. The news was about a very unusual visitor who arrived initially on the Irish coast via an iceberg allegedly. The reported story at that point went a little like this… A Walrus was spotted on the coast of County Kerry on the rocks around the 14th March 2021 by a 5 year old girl who was out walking with her father. It is believed, it may have fallen asleep on an iceberg and drifted a little too far South.
So how did it end up in Wales?
Well by the 6th April 2021, Live Science was reporting the very same Walrus was hitching rides on passing ships. Wally travel 280 miles from County Kerry, Ireland and was now in Tenby, Wales where it is a star attraction, hogging the lifeboat ramp of Tenby RNLI and you can't blame Wally after that fun adventure, a relaxing spot is what all ambitious travellers need, with bed and board. It is believed it arrived in Wales around the 20th March and it's story continues to get interesting.
There is a hell of a story surrounding Wally the Walrus and given my limited ability to travel the world currently, I was going to attempt seeing our special guest myself. So I began the planning and I chose a sunny day in mid-May to embark on the 4.5 hour drive from Hertfordshire to Tenby.
Upon arrival, I was struck by the stunning colouration of this very picturesque coastal town. I have not been to Wales since I was in my early teens but I have always admire the beauty of the Welsh Landscape. Part of my plan was not to just stay in Tenby but to travel an hour North to Martin's Haven and pick up a boat to Skomer Island. Unfortunately, I wasn't able to get a ticket to the island, but I did get a ticket to sail around the island, so this was a better option than missing out.
Arriving in Tenby at around 11am, I parked up at the Five Arches car park and I began my walk to the RNLI to capture their famous resident. Walking through Tenby, you cannot ignore the very obvious history of the town. The first thing I see on my stroll through the town is literally the Five Arches Gate whereby the structure of the arches and walls indicate this as a ruins of a former fortress.
The walls were built in the early 13th Century and there is a plaque on the other side of gates stating it is the site of the West Gate -13th Century. Reading up from various sources of the history of this specific gate, it references there were more gates but that most of the town's gates were demolished around the 18th century. They used to connect to Tenby castle and connected the city. Only one gate still exists which is this specific gate and out of the 24 towers only six are still in existence.
Walking through the gates and taking in all the little shops which are equally as vibrant in colour as the houses, you will notice St Mary's Church, which is incredibly pretty and not out of place. This Church comes with history dating back to the Normans with Gerald of Wales documented as the earliest member of the clergy to Tenby.
It is said the remains of Thomas White are buried at St Mary's. I had personally not heard of Thomas White until this point and I was not able to checkout the tomb, due to covid restrictions. Thomas White is said to have hidden Henry Tudor (aka Henry VII) when he was younger from Richard III and of whom would become successor of Richard III as King of England. Thomas was Mayor of Tenby with John White of whom Thomas is a descendent of.
Following the winding streets, I head up Castle Hill and I am met with a line of people with cameras at the ready and excitedly chatting. I take up a spot and set up the kit ready to take the following shots.
Whilst taking in the majesty of Wally the Walrus, I get chatting to members of The Wildlife Trust of South and West Wales and it is here I learn about Wally's true story. But before I get to this story, I want to cover some key facts about Walruses in general.
Some may not be familiar with what a walrus is and some may be familiar. Some may remember Lewis Carroll's poem The Walrus and the Carpenter. (Audio reading below – the poetry foundation) This also featured in Alice in Wonderland and as part of the 1951 disney cartoon adaptation of Lewis Carroll's book.
https://www.poetryfoundation.org/poems/43914/the-walrus-and-the-carpenter-56d222cbc80a9
Walruses are currently on the vulnerable list where conservation goes. They are generally carnivores and they are huge. Some may think they look like seals, but there are stark differences, despite being from the same family group; Pinniped.
Elephant Seals are generally larger than a walrus and do bear similar resemblance being similar size and colouration, but Walruses have tusks.
There are two species of Walrus; the Atlantic and the Pacific. The one in Tenby is a young Atlantic Walrus.
Male walruses weigh a lot and they need to keep fat or otherwise known as blubber to survive. They can reach approximately 1.5 tonnes in weight and up to 3.6 metres in size. They were unfortunately hunted for their meat and tusks in the 19th and 20th centuries. They were also hunted by indigenous Arctic people for their meat, fat, skin, tusks, and bone.
The Tusks are used as weapons of defence when having to fight other Walruses or predators. The tusks can reach up to 1 metre in length and whilst both male and female walruses have tusks, the males tusks tend to be thicker and longer.
Walruses are not a deep water mammal, which may surprise many given their native location. They feed in shallow waters, eating clams, molluscs, worms, snails, soft shell crabs, shrimp and sea cucumbers. Tenby is rich with these foods.
Walruses can live between 20 – 30 years and gestation is around 15 – 16 months with the young known as calves.
Due to climate change, tourism, and globalisation, the walrus is now under threat and with the Arctic circle which covers the Atlantic, now opening up more, it is reported this is causing greater disturbance and stampedes which are dangerous for Walruses. They are not a fast moving mammal and they are noise sensitive and easily spooked.
So back to the very handsome Wally. Wally has been confirmed as being Male. Initially it was thought Wally was female due to the size of his tusks but having had a haphazard start in Wales, he was checked over after falling off a cliff near Broad Haven Beach in Pembrokeshire which was witnessed by a member of South and West Wales Wildlife Trust and to which the RSPCA attended to check his well being. As this excited young lady who volunteers to monitor Wally on behalf of the trust explains to me, he was vastly underweight and they were concerned he wouldn't make it. He was badly bashed up with many injuries but in the past few weeks, he has made an excellent recovery and is now enjoying being a much loved member of the Tenby community. Wally is believed to be between 18 months to 2 years old and is not yet fully grown, meaning he is still a youngster. The last sighting of a walrus in British mainland waters was approximately 54 years ago, though one was spotted in Orkney Scotland in 2018.
A small population of Atlantic walruses are scattered across the Canadian Arctic, to Greenland, Svalbard, and the parts of Arctic Russia. There are approximately eight suggested subpopulations of Atlantic walruses.
The South and West Wales Wildlife Trust line the wall by the RNLI everyday to help ward off boats who try get too close with Tenby RNLI putting cordone boats nearby to keep disturbance to a minimum. Wally has been enjoying relaxing on the RNLI's lift boat ramp, which isn't always the greatest idea and was recently reported and documented with a member of the RNLI trying to shift him gently into the waters so they could attend an emergency.
As the tide came in he waddled up the ramp a little further. My lense which is a 70-300mm on this day was limited and I did have to resort to borrowing a lens from a fellow photographer to capture the following series of images. The images were captured using a Canon 200-600mm lens kindly lent to me by a fellow photographer. Thank goodness he had the same model DSLR as me or I would've been doing a lot of editing.
After much admiration for Wally, it was time for a short stroll around Tenby before I headed North to Martin's Haven…
Following the wall ruins around the town, I find a pathway leading up hill and from here I get to photograph another beautiful view. You would be forgiven for thinking I wasn't in the UK.
The view I had was of Castle Beach with its clean sandy beach and azure sea and St Catherine's island which is home to a Napoleonic Fortress. Back in the Elizabethan era under the reign of Queen Elizabeth I there used to be just a chapel on the island that was dedicated to St Catherine, the patron saint of spinners and weavers. The chapel had been there for many centuries. in 1856 preparations commenced to build the fort that exists today. During these preparations it is noted that various bones and egyptian artifacts with some Roman coins were removed.
Time pressing on, I needed to get to my next destination which was an hours drive away. Following many rural lanes, which are narrow, I arrive in Marloes Peninsula which is a huge National Trust site but more specifically, Martin's Haven and Deer Park. I am to catch a boat tour around Skomer Island in the hope to capture some shots of the gannets, guillemots, puffins, razorbills and oyster catchers.
Arriving early, I took a small hike around the rugged landscape and snapped away at some of the most eye catching views before me. However, time goes fast when you are having fun and it was time to get aboard the vessel and head out to sea.
Taking in the ocean views, it wasn't long before we reached Skomer and began the journey around the island. You can walk on the island but at present this is booking up fast due to the covid restrictions, meaning everything I am photographing is at a great distance. I will let the following images do the talking.
I saw lots of guillemots, puffins and razorbills but the guide explained that the gannets had been unusually sparse. Seeing the guillemots, brought back memories of when I rescued one I had found in Brighton covered in oil and I got pecked on my top lip for my efforts, which was to take it to the sealife centre to recover. I was a little disappointed to not get closer to get better shots of the birdlife and therefore I will aim to return later this year. I got to see some seals sheltering in the cove and swimming in the sea at a distance but all in all I just enjoyed the boat ride and the rugged landscape.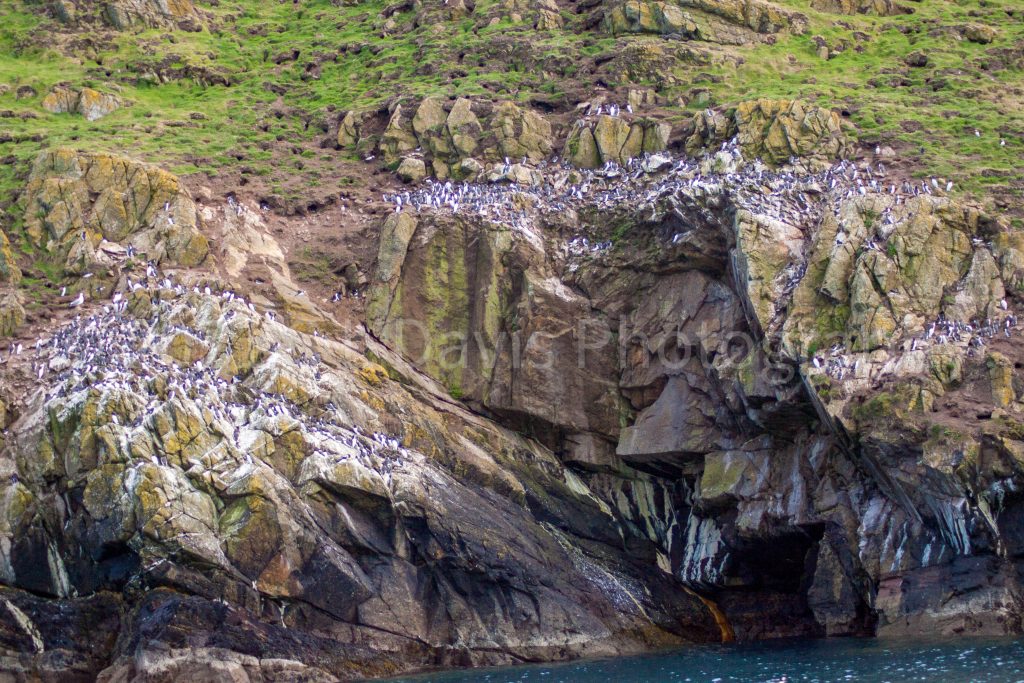 Skomer is less than a mile off of the Pembrokeshire coast and can only be reached by boat. It is also a conservation site and the holes you can see are from the rabbits. There are no rats on the island. We did catch a glimpse of a peregrine falcon above the rocky terrain but it was too far away for me to photograph. Skomer is one of many small islands around this coastline that is home to a diverse colony of wildlife which are protected. There is thankfully no human inhabitants on this specific island and the building you can see pictured is the tourist and research centre.
It wasn't cold out on the boat and a cheeky seagull hovered above our heads before hitching a ride back to shore.
Once back on dry land, it was now time for the 5 hour drive back to Hertfordshire…
(Since my visit, Wally had traveled South, first appearing in Cornwall, before travelling further and arriving in France. Unfortunately Wally was hit by a boat in France and was monitored as he has sustained injuries. He recovered, moved onto Spain and then went on to cause havoc in the Isle of Sicily and back to the Irish coast where he sank a few boats looking for a resting spot. Wally finally made it back to his home in the Arctic after being spotted in Iceland in September 2021).